Hi ,
I have just finished updating the Web 2.0 Marketing Tools with another 6 more new products!. Now pack stands at 85 products sizzling web 2.0 marketing products.
Hub Blueprint

Web 2.0 For Newbies

Web 2.0 Buy Buttons

Web 2.0 Style Squeeze Page Templates

Traffic 2.0

Viral YouTube Traffic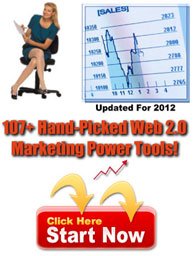 Do Not Miss Out On This Quality Item. Check Right Now:
The Amazing Web 2.0 Marketing
Power Tools
Visit Here Right Now To Grab Them!
Have a great day!
Courteously -- S. Kumar
www.learnhomebusiness.com
Important! I will be letting know of the updated products download link for all the existing customers of Web 2.0 toolbox tomorrow as you are entitled to get all the newly added products for free for the rest of your life!
It's all here...
Web 2.0 Marketing Bonanza