Hi ,

Here are two gifts for you that you can use to learn as well as rebrand it and distribute for profit.

1. Sales Doubler

Sales Doubler has been updated and is better now. It has become a more Lethal Viral Marketing Tool than before.
Download Sales Doubler Now!

Instantly bond with your your prospects and win their trust
Add that extra for effect on strategic spots your web page
Boost up your sales by 300%!
Additional back end sales from existing customers
Fire up your autoresponder in such a way to call your subscribers by their name from your website
And much, much more!

Use the password: salesbooster
To make the branding easier for you and re-distribute, there's also an online link for branding instructions.
Pls. Visit Here : Online Branding Instructions for Sales Doubler

2. Sales Letters That Get You Immediate Results
Sales Letters is a newly released eBook with Viral Marketing Benefits for you if you choose to re-distribute it. This eBook will teach you in simple terms, how to craft a stunning sales letter that results in better sales conversions.
Download Sales Letters Now!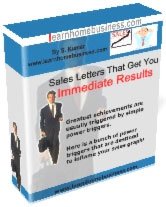 A Very Important Note: Ever since the Windows SVC PK 2 came out, 1000's of eBooks have stopped functioning in computers that runs SVC PK 2. It is NOT the fault of the eBook authors but its Microsoft who goofed up on this aspect. If you suddenly find some of the eBooks provided from me or from this site, please do not blame me.
Here's how you solve the problem.
Download the eBook Fix from here.

Run this software, it will automatically fix the ebook problem. You don't have to click any button to enable it. You can read the ebooks while the software is left run.

After you finish reading ebooks you can close this software and it will automatically enable the security feature of SP2. This way you won't be vulnerable to any security threat if you forget to re-enable the security feature like the other similar software's. It is all handled automatically by this software
Also, I suggest you download this free report and read it.

Good luck to you,
Courteously -- S. Kumar
www.learnhomebusiness.com